Susan Baird, Nominated by A Soldier's Child Foundation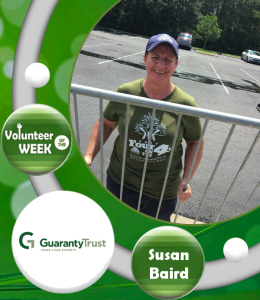 Susan has been a valued volunteer with A Soldier's Child Foundation for the past two years.  In that time she has stepped up and volunteered for each of their local fundraising events including their Golf Scramble, Dinner Banquet and 4 on the 4th Run/Walk.  In addition Susan has also fund-raised on ASC's behalf at her place of work.
Recently, Susan has taken a lead roll in ASC's new fundraising venture with running a concession stand at Nissan Stadium for Titan's home games.  Susan has delved into the role as a lead volunteer and has made sure those working with her are given the information and help necessary to run a successful stand.
Susan will receive a certificate from Volunteer Rutherford and a $25 Amazon Gift Card Courtesy of Guaranty Trust Company.
SPONSOR