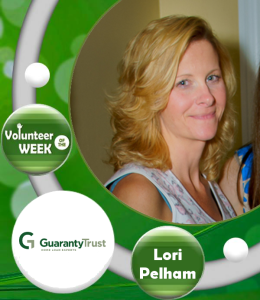 Lori Pelham, Nominated by Girl Scouts
Lori Pelham is a wonderful Girl Scout leader who goes far beyond the call of duty in helping her girls and in helping anyone else who comes along! She is definitely a worker bee with her troop and manages to juggle leading a very active troop, helping with initiatives for others in her service unit and working full time, all while being a great mom to four children!
Lori became a Girl Scout Leader in 2008, helping with Troop 2818. She arranged many quality activities for that group and is also the Leader for 13 5th grade girls in Troop 1562.  Lori works so hard for her girls and for others – she is constantly looking for needs in the community and for volunteer activities for her girls. Last year she hosted the Mother/Daughter tea, making all of the food, arranging all of the activities and creating long-lasting memories for over 60 mothers and daughters. She did this all by herself and plans to host the event again this year.
Lori will receive a certificate from Volunteer Rutherford and a $25 Amazon Gift Card courtesy of Guaranty Trust Company.
SPONSOR