Ella Edge, Nominated by the Murfreesboro Lions Club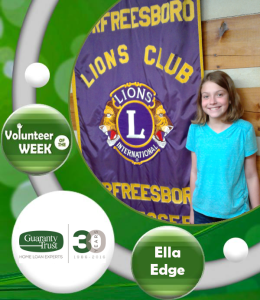 Ella is an 11 years old student at McFadden Elementary.  Her school had a Vendors Fair and she set up face painting at the end of her father's booth and asked for donations for the Lions Club for their Eyeglass Fund. She did face painting all by herself for over four hours and made $60 to donate to the Lions Club to help pay for glasses for the indigent.
Ella is always first to volunteer to help: she shows up to sell pecans at Kroger's, works in the dining room during the Pancake Breakfast and even made cupcakes for the members for a special dinner. At McFadden, she is on the Honors and Principals Lists and is secretary of the Elementary Honors Society. Ella has a heart for doing good and for service to others. She is the youngest Lions member but she sets an example for all.
SPONSOR