Donna Gibson or Fran Campbell
The mission of the Murfreesboro Symphony Orchestra is to improve the quality of life in Middle Tennessee by educating, entertaining and fostering a love of music through high-quality professional music performances.
They perform five regular season concerts each year and two free concerts. One is the July 4th Celebration Under the Stars hosted by the City of Murfreesboro and the other is a Family concert filled with family friendly activities and music. They also perform for schools, veterans homes and elderly homes during the year.
 SPONSORS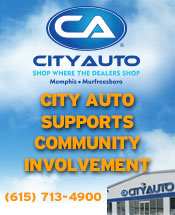 Opportunities to serve ON SITE:  They need help at their concerts. Ushers is a great need at these events.  They also need volunteers to help with fundraising events.
Opportunities to serve OFF SITE: N/A
Donation Needs:  N/A
Event Volunteers: They host dinners, wine tastings and an annual golf tournament.
How to volunteer: Contact their office.

You must login to post comments