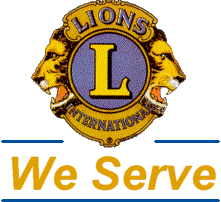 What they do:
Murfreesboro Noon Lions Club core mission is to take an active interest in civic, cultural, social and moral welfare of the community. They want to encourage service minded men and women to serve in their community without personal financial reward and to encourage efficiency and promote high ethical standards in commerce, industry, professions, public works and private endeavors.

Noon Lions assists people who have vision needs. In Rutherford County and Murfreesboro, they screen the eyes of children under age 6 in head start programs, Day Day, Mothers Day Out, Murfreesboro City and Rutherford County schools.
Thru Middle Tennessee Lions Sight Service in cooperation with Vanderbilt Lions Eye Center and a local ophthalmologist, surgeries are funded. The club supports several Lions Club programs to provide training and mobility for sight-impaired, provide leader service dogs, books in Braille, books on tapes, Hearing service dogs and The Tennessee School for the Blind.
Noon Lions also give to other community needs as they arise. In the past, they have provided support to the Good Shepherd children's home, conducted activities at the Veteran's home, conducted coat and shoe drives for local head start programs, and provided donations to Greenhouse ministries.

The club was chartered in 2002. 
Key Projects: 
Eye screen children in elementary schools.
Eye screen adults and children at health fairs, special Lions events, etc.
Sponsor a Drug Essay and Peace Poster Contest annually in schools or Boys and Girls Club.
Buy many pairs of glasses and hearing aids annually for indigent children and adults.
Give to various community projects -Greenhouse Ministries, Good Shepard Children's home, Head Start programs, Veteran's Nursing Home, etc.

Fundraising includes our annual Golf Tournament in May, Pecan sales in November and December, and Charity Events scheduled through local merchants.
Accepting new members? Yes
Qualifications for membership? To be a member you must be invited and encouraged to provide service to your community. Members will gain close working relationships with others who share the same vision. They will develop or sharpen leadership skills that will be useful in Lionism and in other areas of life.
Dues charged to members: There is an initiation fee of $30 which gets members their Lions pin and a monthly Lions magazine. Dues are $10 a month.
Meetings: Club meetings are the 2nd and 4th Thursday at 12 noon at Logan's Roadhouse at 740 NW Broad Street.