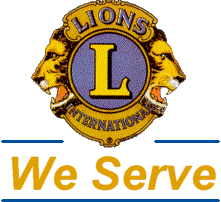 What they do:
Their core mission is assisting people who have vision needs. In Rutherford County and Murfreesboro they screen the eyes of children under age 6 for seven problems of the eyes with a special instrument and then screen with a different machine the children in selected elementary grades for eye problems.
 Thru Middle Tennessee Lions Sight Service in cooperation with Vanderbilt Lions Eye Center and a local ophthalmologist, surgeries are funded. Their club supports several Lions Club programs to provide training and mobility for sight-impaired, provide leader service dogs, books in Braille, books on tapes, Hearing service dogs and also The Tennessee School for the Blind. 
They give to other community needs as they arise. In the past they have funded street signs, milk for children in schools, purchased weather radios for all schools in the city and county, built a Habitat for Humanity House, provided items for Discovery Center, worked on Kids Castle, and the list continues. Club was charted in 1933.
Key Projects: 
Eye screen children in elementary schools. Eye screen adults and children at health fairs, Neighborhood Night Out programs, special Lions events, etc. Sponsor a Drug Essay Contest annually in schools or Boys and Girls Club.
Buy many pairs of glasses and hearing aids annually for indigent children and adults. Give to various community projects – Special Kids, Discovery Center, Greenhouse Ministries, Journey Home, Food Bank, Room at the End, etc.
Annual Pancake Breakfast in Feb., Fish & Chicken Dinners in Clubhouse at Uncle Dave Macon Days, Pecan sales in November and December 
Accepting new members? Yes
Qualifications for membership? Have a strong sense of service to the Murfreesboro community. There are many opportunities, from the local to the international level, to enjoy a close working relationship with others who share the same vision and to develop or sharpen leadership skills that will be useful in Lionism and in other areas of life.
Dues charged to members: There is an initiation fee of $30 which gets members a cap, a pin and a monthly magazine. Dues are based on whether a member eats or not eat at the two meetings a month. If you eat, dues are $70 a quarter.
Meetings: 2nd & 4th Mondays at 6:15 at the Lions Clubhouse in Cannonsburg Village