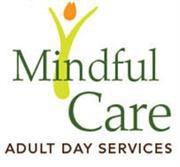 Mindful Care ADS provides a year-round, 5 day-per-week supervised adult day care program. Their staff members are trained in providing meaningful activities with compassion while managing their participants' disorientation, limited communication and memory loss. The participants experience a variety of activities throughout the day that stimulate memory, assist in relationship building, strengthen muscles, promote creativity, and foster a hopeful attitude toward life. Everyone goes home at 5:00 PM.
The program uses multi-sensory stimulation to bring new approaches to tasks and to compensate for damaged areas of the brain. Word games, exercise, structured social situations that call upon preserved social skills, musical and art events, crafts and other recreational activities provide opportunities for using and building on remaining abilities.
Mindful Care strives to help caregivers give themselves permission to take time off from their 24/7 duties to take care of themselves.
 SPONSOR
Opportunities to serve ON SITE:
Some of their volunteers have a specific talent such as music or crafts. Others are students (home school, high school, MTSU) who are meeting a requirement or just want to enjoy being with their program. Others like to come on a certain day to help with the cooking project or other activities that are planned. There are many word games, puzzles, etc. where a volunteer can work individually with a participant to assist.
Opportunities to serve OFF SITE: They mail invitations for their fundraisers. They like to hand address the envelopes and it helps to have people do this who have beautiful handwriting. There are also several pieces to stuff into the envelopes prior to sealing them. Usually they work together around a table as a group effort.
Donation Needs:
*Ladies magazines, animal magazines, travel magazines and seed catalogues with color photos.
*Paper cups, paper plates and bowls (not plastic or foam)
*Napkins, paper towels
*Craft kits, craft paint, construction paper, scotch tape, wooden craft items to paint, colorful tissue paper
*Picture puzzles (30, 60, or 100 pieces) – themes for adults, not children
Event Volunteers:
They have annual fundraisers and welcome volunteers. Typically they have a musician or a duo or a band to provide entertainment or background music.
Volunteers help them in the kitchen of the home where they have the fundraiser serving of the food and clean-up. Volunteers sometimes seek sponsorships or food donations for the fundraisers.
How to volunteer: To volunteer, call the program and make an appointment to come in, meet them and observe the program.