1 in 5 senior citizens in TN go to bed hungry every night. 30% of seniors choose between food and medicine. 35% choose between food and heat/utilities. MCHRA Meals on Wheels Program provides a hot, nutritious, lunchtime meal to homebound seniors 60 years of age.
Their meals are delivered by caring volunteers to homebound clients. Their homebound folks not only receive a hot meal….ready to eat…but also a visit/wellness check by their volunteers. Seniors are often forgotten. Be someone that remembers! Help the Elderly in your community.
 SPONSORS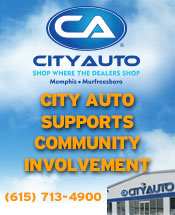 Opportunities to serve ON SITE:  They have 15 routes that go all over Murfreesboro. At the present time……. they have several regular routes open. Most volunteers deliver the same route once a week. They do have a need for back-up volunteers………..ones that they can call to fill in when a regular volunteer is out. They also have a limited need for volunteers that can help pack the food into the trays they send out. These volunteers would also help with the congregate (seniors that attend the Senior Center and have lunch with us here) part of the program. Some cleaning involved with this.
Opportunities to serve OFF SITE:  Occasional needs
Donation Needs:  N/A
Event Volunteers: Occasional needs
How to volunteer:  Call Debbie Willis – 895-1870 to volunteer or to help by making a donation
Meals on Wheels is located in The St. Clair Senior Center at 325 St. Clair Street, M'boro 37130 They have a volunteer registration form that every volunteer has to fill out. They are required by the state to do a background check on each volunteer.
You must login to post comments