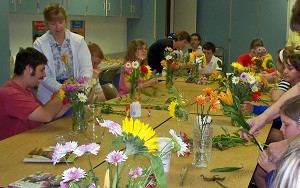 L.E.A.R.N.'s mission is to be a network of families and volunteers joining together to provide opportunities for learning and fun that will help children and adults with special needs reach their fullest potential.
They are a parent driven group and no one receives a salary. They are all volunteers and every voice carries the same weight.
They want to provide an abundance of opportunities for special needs youth and adults to experience as much of life as they can.
How they do that:
1) CLASSES are held throughout the year and are usually available free of charge to children and adults with special needs. Some classes may have a supply list that will have to be purchased for a nominal amount.
2) SPORTS are fun while teaching rules, skills, sportsmanship, the fun of achievement, camaraderie, and friendship building while working on gross motor function.
3) FAMILY ACTIVITIES are opportunities for families and volunteers to gather together and have some fun.
 4) SOCIAL ACTIVITIES are held for the teens and adults to socialize, have fun, make friends and maintain friendships.
 SPONSORS
Opportunities to serve ON SITE:  They always need coaches/assistant coaches/volunteer helpers for their sports programs. They have different sports based on the season. Basketball from January through March; Bocce ball, Track and Field, and Powerlifting from March through May; Golf from March through September; Flag Football from June through September; Bowling in September and October. They partner with Special Olympics Tennessee.
They always need volunteer teachers for classes such as cooking, social skills, crafts, job skills, health and nutrition, exercise and any other class that the volunteer would like to teach.
Opportunities to serve OFF SITE: N/A
Donation Needs:  They have a monthly Petals With A Purpose Class where their teens and adults take "used" flowers (from weddings, funerals or other donations) and make new arrangements to take to the residents at the nursing home. They need vases of all sizes, mason jars, floral scissors, wire, ribbon or raffia, etc. When they have classes or game nights they can use a variety of craft supplies and board games. Gift certificates to craft stores (such as Michael's) or Wal-Mart are also helpful to purchase supplies.
Event Volunteers: 1.They have dances twice per year. They always need help with decorating, food serving and cleanup. 2. They have an annual Fall Fling in October with games, food and activities (facepainting, etc.) They need volunteers to help with all these stations as well as decorating and cleanup. 3. They do 2-3 fundraisers per year. Bake Sales, Hot chocolate/coffee stand at the Christmas Parade, concession table at our sporting events, etc. They always need help with these fundraisers.
How to volunteer: Contact them through email or phone and they will discuss what opportunities are available at the time.