Brian Norfleet, Nominated by A Soldier's Child Foundation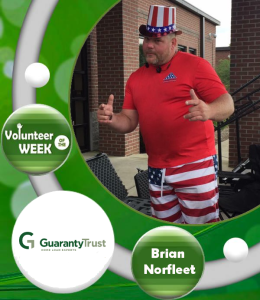 Brian has volunteered with A Soldier's Child essentially from the very beginning of ASC in 2009.
A Soldier's Child Foundation has three major fundraisers, a dinner banquet, a 4-mile race on the 4th of July and a celebrity golf scramble. Over the last five years, Brian has played a intricate volunteer role in each of these events.
Brian has given of time, talent and treasure to ASC with his skill set in event planning, marketing and promotion. Brian has also participated in many of the camps that they offer to the children they serve. Brian Norfleet is a mentor to many ASC kids and they love him.
Brian will receive a certificate from Volunteer Rutherford and a $25 Amazon Gift Card courtesy of Guaranty Trust.
SPONSOR